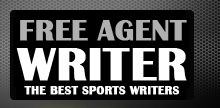 Yankee Addicts
Categories
Featured Sponsors
News published by
January 14, 2011
Aside from the fact that my Chiefs lost, Wild Card weekend featured a phenomenal slew of games, and I expect more of the same starting this Saturday in Pittsburgh. I ...
December 30, 2010
It All Comes Down To This If you're still playing fantasy football this weekend, I'd like to congratulate you for making it to the championship in a real man's league. No ...
December 23, 2010
While you were watching the amazing game between the Eagles and Giants, I was stuck in the DC market with the Redskins game on Fox, so naturally, I watched the ...