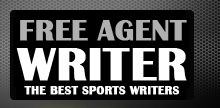 Yankee Addicts
Categories
Featured Sponsors
News published by
February 9, 2011
With the combine just looming around the corner—yeah, it's only about two weeks away—it is time to start thinking about the guys who will climb in the draft purely based ...
April 26, 2010
Every year great players seem to slip further and further in the draft. 2010 was no exception. With one of the deepest and youngest drafts of all time, many players who ...
April 25, 2010
Every draft there are always those players that make you scratch your head and say, "what were they thinking?!" With a record number of underclassmen in the 2010 draft, there ...
April 21, 2010
ESPN's Chris Mortensen and Adam Schefter have reported that Steelers' quarterback Ben Roethlisberger will be suspended for four to six games. It was originally thought that Roethlisberger would be suspended for ...
April 18, 2010
The Steeler's offseason has been one more of drama than football so far. So, let's forget about Big Ben's off the field issues and get back to what the Steelers do ...
April 17, 2010
Santonio Holmes to the Jets. Brandon Marshall is a Dolphin. Ted Ginn Jr. returning kicks for the 49ers. These trades have really rocked the NFL world this past week, which ...
April 15, 2010
A lot has changed since the first 2010 mock drafts have come out. Ndamukong Suh is somehow not the consensus No. 1 overall pick anymore, Brandon Spikes is no longer first ...
April 14, 2010
Josh Hull is living the dream and looking to become the third Penn State linebacker taken in this year's NFL draft. However, Hull's path to the NFL and even college stardom ...
April 12, 2010
Most Steeler fans are starting to receive the word that former Super Bowl MVP Santonio Holmes was traded last night. Holmes was given up for a fifth round pick in these ...
April 12, 2010
ESPN's John Clayton has confirmed that the Pittsburgh Steelers have traded wide receiver Santonio Holmes to the New York Jets. The former Super Bowl XLIII MVP was traded for the Jets' ...