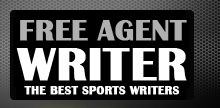 Yankee Addicts
Categories
Featured Sponsors
News published by
April 23, 2011
According to ESPN's Adam Schefter Miami Dolphins' star wide receiver Brandon Marshall is in intensive care after being stabbed during what is being regarded as a domestic dispute. While specific details ...
April 19, 2011
The 2011 NFL Draft is just nine days away, so we're running out of time to closely inspect and criticize every single draft prospect.In an effort to keep the critique ...
April 18, 2011
The San Diego Chargers haven't been able to close the deal. That has to be their motto for the past 20 years. From Stan Humphries and a no-show performance in ...
April 18, 2011
I'll bet a lot of Green Bay Packers fans were a little surprised, if not upset, when Ted Thompson and Co. selected Kansas State receiver Jordy Nelson in the second ...
April 17, 2011
One of the  wonderful oddities about covering the NFL Draft before it actually happens is that even the best experts are way off base about 99 percent of the time. With ...
April 17, 2011
When you think of Brooks Reed, you think of Clay Matthews Jr. Not just because of the long locks or the fact that they both play on the outside and ...
April 16, 2011
One of the major questions heading into the 2011 NFL Draft is where the top signal callers will be selected. Much is being made about the No. 1 overall pick, ...
April 5, 2011
According to ESPN's Adam Schefter, the Cincinnati Bengals have "floated the idea" of trading for Philadelphia Eagles backup quarterback Kevin Kolb within the organization. It was made to be fairly obvious by ...
March 11, 2011
The Pittsburgh Steelers came one failed drive away from hoisting their seventh Lombardi Trophy, falling to the Green Bay Packers, 31-25 in Super Bowl XLV. They will have to start ...
March 7, 2011
My heart goes out to Ryan Fitzpatrick. He took over for the under-whelming Trent Edwards in 2010, put up very solid numbers and turned the hapless Buffalo Bills into a ...