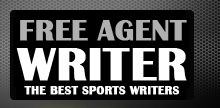 Yankee Addicts
Categories
Featured Sponsors
News published by
January 9, 2011
By now, everybody knows what the situation is. And the Dolphins PR department, as well as certain individuals, will say what it needs to and save as much face as ...
December 25, 2010
We have come to a new chapter in the season. It's true, the ending will not be a happy one in this story entitled The Dolphin's 2010 Season. In the ...
December 24, 2010
It may seem obvious or a given to most of us, but I haven't read it enough times that I feel comfortable with the issue. Sometimes in life, we simple have ...
December 21, 2010
I separated my article into two parts, because I knew, inevitably, I would talk about my favorite team's strength and weaknesses, and that this would take me away from one ...
December 16, 2010
So I'm just waking up from a time capsule kind of a thing, a Rip Van Winkle of a slumber that had me under since 19 seventy-something, and I really ...