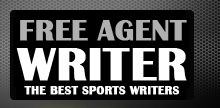 Yankee Addicts
Categories
Featured Sponsors
News published by
August 10, 2010
2009 was supposed to be a big year for Matt Ryan. By all accounts, his stellar rookie campaign (2008) set the bar high in Atlanta. Most predicted, at ...
May 25, 2010
"They are who we thought they were….and we let em' off the hook!" Remember that line from former Arizona Cardinals head coach, Dennis Green's, post-game tirade? While funny at the ...
March 3, 2010
Georgia has done a fine job of producing top-level talent at the next level. Both Matthew Stafford and Knowshon Moreno were starters last season while the continued presence, and success, ...
February 26, 2010
A sleeper should not be on your immediate radar. A sleeper should be, by definition, tucked away under a serious blanket of almost complete anonymity. If you have heard his ...