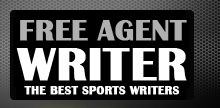 Yankee Addicts
Categories
Featured Sponsors
News published by
May 31, 2014
If you need proof that defense wins championships, look no further than Super Bowl XLVIII (48) almost four months ago when the Seattle Seahawks dismantled the Denver Broncos, and one ...
May 20, 2014
After a 2013 season where the Atlanta Falcons went 4-12, there had to be a moment shortly after season's end where ownership and the front office sat down and wondered ...
May 17, 2014
An NFL player busted for smoking marijuana, or any other drug listed on the league's substance-abuse policy, knows exactly what kind of punishment the league can hand down. The first ...
May 17, 2014
We're not even a week removed from the conclusion of the 2014 NFL draft and already Tampa Bay Buccaneers' first-round draft pick Mike Evans is turning heads. Apparently the new wide ...
May 3, 2014
Spending time in the NFL's green room and waiting, waiting … waiting, is no way to spend the first round of the NFL draft. No player wants to start his ...
April 26, 2014
Just 12 months ago, you had to be a hardcore Auburn Tigers fan to have a ton of knowledge of left tackle Greg Robinson, let alone have his name roll ...
April 12, 2014
Former LSU quarterback Zach Mettenberger has a bright future ahead of him in the NFL. It might not be Timbuk 3 "The Future's So Bright, I Gotta Wear Shades" bright, ...
March 29, 2014
In the sixth round of the 2000 NFL draft, the New England Patriots arguably made one of the best draft picks ever. Former Michigan quarterback Tom Brady was on the ...
March 15, 2014
The first three days of free agency have gone by at a frenetic pace for the Tampa Bay Buccaneers. In total, the Bucs have signed seven new players—the most recent ...
March 12, 2014
It's no secret that the Atlanta Falcons entered free agency on March 11 in dire need of help along the offensive and defensive lines. The team signed three linemen within ...