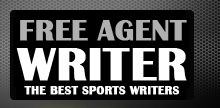 Yankee Addicts
Categories
Featured Sponsors
News published by
August 9, 2010
Wide receiver Travis Shelton Sr. is fraternizing with the enemy. As an offensive skill player, his job is to outrun, outleap, and outcatch cornerbacks, but Shelton finds himself training with them ...
August 3, 2010
The summer is always a fluid time in the world of sports, and this summer has been no different for the Chicago-based Kaufmann Sports Management Group. The agency has signed ...
March 24, 2010
When Prince Kwateng signed with the New Orleans Saints on Dec. 9, 2009, little did he know that his new NFL team would later become the Super Bowl champions. However, ...