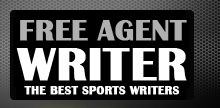 Yankee Addicts
Categories
Featured Sponsors
News published by
May 31, 2013
The Cincinnati Bengals open their season at the Georgia Dome against the Atlanta Falcons on September 8th and there are a handful of rookies that will contribute when that day ...
May 18, 2013
One of the novelties of the NFL is that occasionally the small school player emerges to make a huge impact.Jerry Rice out of Mississippi Valley State.Terrell Owens out of Chattanooga.Ray ...
April 24, 2013
The NFL Draft is only days away and the Cincinnati Bengals find themselves in good shape to acquire young talent. Cincinnati had a different approach to this offseason choosing to ...
April 16, 2013
On Tuesday afternoon, ESPN analyst Adam Schefter tweeted that while the Bengals remain in talks with former Steelers linebacker James Harrison, a deal does not look imminent. Schefter originally tweeted ...
March 23, 2013
On Friday, the Bengals announced that they had agreed to terms with quarterback Josh Johnson. Today, NFL Network Analyst Ian Rappaport tweeted that the Bengals have agreed to a one-year deal ...
February 16, 2013
25 days still remain until NFL free agency officially begins. While many unrestricted free agents are focusing on their bodies heading into this period of organized chaos, Bengals defensive end ...