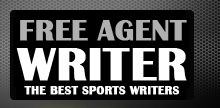 Yankee Addicts
Categories
Featured Sponsors
News published by
June 23, 2012
In this year's first installment of Musts, Trusts and Busts I focused solely on the field generals. Now it's time to spotlight the breadwinners. From Arian Foster to Isaac Redman, ...
June 13, 2012
With the whispers of NFL training camps comes the assemblage of the world's fantasy football "gurus." Men and women who work tirelessly as they tediously analyze team's additions and shortcomings ...
July 16, 2011
Detroit Lions starting quarterback Matthew Stafford enters the 2011 season just as he did the 2010 season: A talent believed by many of being capable of becoming the next big ...
July 9, 2011
2010 marked the first time in defensive end Jason Babins career that he recorded more than four sacks in a single season. So why would the Detroit Lions pursue a ...
June 25, 2011
For the first time in years it looks as if the Detroit Lions will be legitimately competitive in the NFC North Division. Martin Mayhew, Jim Schwartz and the entire Detroit ...