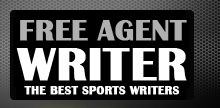 Yankee Addicts
Categories
Featured Sponsors
News published by
January 16, 2017
A Dion Lewis-for-Emmanuel Acho trade didn't raise eyebrows at the time—but it's funny how things can work out. Back in April 2013, the Cleveland Browns and the Philadelphia Eagles came to ...
December 26, 2016
If there's one thing you should know about Chad Johnson, it's that the trash-talking never stops. Especially when it comes to football...or FIFA. When he was a member of the Cincinnati Bengals, ...
October 26, 2016
When Ricardo Lockette wondered if he might die after a football injury last year, there was one Seattle Seahawks teammate in particular who stuck by his side and did whatever ...
August 2, 2016
Like many others, Detroit Lions guard Larry Warford was caught up in the Pokemon Go craze. Until he realized just how big the game had become. Then, the 25-year-old got out of ...
July 27, 2016
As many around the United States await The Bachelorette finale, there is one notable person who doesn't appear to be planning any viewing parties for Monday night: Green Bay Packers quarterback Aaron ...
July 27, 2016
Michael Vick was once the most electrifying player in the NFL, but now, at 36 years old, the free-agent quarterback is looking for work. If you ask him, though, he's still ...
June 23, 2016
Bill Simmons' new show, Any Given Wednesday, made its debut on HBO on Wednesday night, and it started with a bang. The most eyebrow-raising part of the episode was related to Boston ...
June 9, 2016
Carolina Panthers quarterback Cam Newton was dabbing all over NFL football fields during his MVP campaign last year, but don't expect that trend to continue this coming season. The "Dab" is ...
June 1, 2016
The Jacksonville Jaguars are in full offseason mode, but that didn't stop offensive lineman Luke Bowanko from taking an "L" recently. No, not on the gridiron—on Twitter. Last week, Bowanko, a Virginia alum, ...
May 23, 2016
It's a good time to be a member of the Apple family. Last month, the New York Giants selected former Ohio State Buckeyes cornerback Eli Apple with the 10th overall pick ...