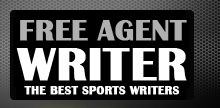 Yankee Addicts
Categories
Featured Sponsors
News published by
November 14, 2010
The Packers have the week off with a much needed bye week.  They are coming off two big wins and are playing at a high level despite countless injuries.  Backups ...
February 22, 2010
The Green Bay Packers are close to being a Super Bowl team, so this draft is crucial.  If Green Bay can fill their largest needs, they will be Super Bowl ...
February 20, 2010
This year's combine should be very interesting. Each year player's stocks rise and fall and this year will be no different. The combine can be the difference between ...