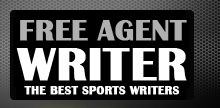 Yankee Addicts
Categories
Featured Sponsors
News published by kyven11
June 4, 2010
There are a lot of big question marks going into the 2011 season for the Seattle Seahawks. One question recently addressed on Bleacher Report was something to the extent of whether the ...
March 19, 2010
With the bulk of free agency out of the way and more than two weeks passing since the last time I posted a mock, I figured now is a good time ...
March 12, 2010
It's interesting to think that the one position the Seahawks have the most depth at is also the position that raises the most questions. When Lofa Tatupu comes back healthy, will ...
March 10, 2010
Fellow 12th-Man Peter Bugayong recently posted a comment on one of my articles that definitely has some merit. Peter wrote "I was kinda hoping the Seahawks would try and go ...
March 10, 2010
Frequently asked questions by Hawk fans at the end of both the 2008 and 2009 NFL seasons included: "Why did I spend that much money on season tickets?" "Will they start selling those paper ...
March 2, 2010
With the 2010 NFL combine winding down I figured it was a good time to piss some people off by posting a mock draft. As a Seahawks fan I pissed ...