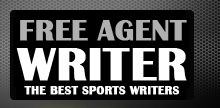 Yankee Addicts
Categories
Featured Sponsors
News published by
April 23, 2011
We are entering the final stretch leading up to the 2011 NFL Draft, and that means that the mock drafts will be wrapping up soon. In the latest update to my ...
April 3, 2011
It's the first NFL Mock Draft in my new digs here. This year's NFL Draft is certain to take some different turns with the apparent wait on free agency. Teams ...
December 15, 2010
There are three weeks left in the NFL season. Teams are not only positioning themselves for the playoffs, but there are a handful of teams that are in a race ...
October 27, 2010
Coming into the 2010 season things were looking up for Tony Romo with the addition of Dez Bryant and the retention of Miles Austin. I had Romo leading a couple ...
October 9, 2010
Going into Week 5 of the fantasy football season, it appears that the injury report is at it's longest yet. Mixing that with bye weeks, fantasy owners have to be ...
October 6, 2010
This morning we were posed with the question as to whether or not a reader should pick up Ryan Torain and start him over Felix Jones or Jason Snelling in ...
October 5, 2010
As we head into Week 5 of the fantasy football season, bye weeks and injuries are causing a shuffle on rosters and waiver wires. While there were no real "I ...
October 3, 2010
Getting a late start on this week's Fantasy Footbaill Injuries that matter, so let's get right to the point. Here is a listing for some guys if you are debating on ...
September 28, 2010
We are headed into Week 4 of the NFL Fantasy Football season. Bye weeks and injuries are leaving fantasy owners with rosters that have holes to be filled. Today, we will take ...
September 26, 2010
We are heading into Week 3 of the Fantasy Football season and the injury list is getting longer and longer. While we like to have our "Fantasy Football Injuries That ...