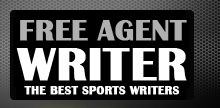 Yankee Addicts
Categories
Featured Sponsors
News published by
August 27, 2010
There have been many points of view on Vincent Jackson, who as of lately has become a big deal to the fans of the Seattle Seahawks. I believe that we all ...
August 26, 2010
It seems at this point and time the Chargers have put their foot down on Vincent Jackson's temper tantrum of wanting more money. Jason Cole of Yahoo Sports has verified ...
August 14, 2010
Since Carrol has been in charge of the Seahawks, I have not heard too many concerns about the big issue with the defensive line, and being able to sack and ...
August 10, 2010
I just searched the Internet looking for an answer to one easy question. I looked for a stat that should be easy to track, but I could not find ...