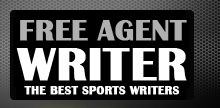 Yankee Addicts
Categories
Featured Sponsors
News published by
June 2, 2012
I'm usually a proponent of taller corners although they generally lack the re-directional fluidity of the smaller quicker types. And of course, it's all relative to the scheme. Regardless, Boykin is a ...
June 2, 2010
Taking a look around the NFC East, we find nothing less than a dynamic landscape of opportunity for all four teams to once again challenge each other for the coveted ...
April 27, 2010
It was a defensive draft, but the Eagles made some surprising selections that not only made me scratch my head, but moreover step back and look at the broader scope ...
April 26, 2010
So far, the Eagles have signed eight rookie free agents following the 2010 NFL draft. That brings the roster total to 79. When camp opens they will be restricted to ...
April 25, 2010
A few hours ago, I was ready to rip Howie Roseman for an inept draft strategy. Then I decided to wait, think and analyze the draft on the whole. The first bit ...
April 24, 2010
Day two of the NFL draft began like most imagined. With the 37th overall selection, the Eagles addressed the secondary with an excellent free safety prospect in Nate Allen from ...
April 15, 2010
The last NFL player-coach was Dan Reeves in 1971. He was a running back and an assistant coach for the Dallas Cowboys. In 2010, could Jeff Garcia be the next? The ...
April 15, 2010
The draft is coming quickly, but in the NFL, it's still open season on free agents. With a plethora of valuable draft picks, the Philadelphia Eagles are in a prime position ...
April 8, 2010
The football front is getting quieter for the moment. The entrails of the Donovan McNabb drama may be ongoing but the roar is dulling. Its time to sprinkle some wild draft ...
April 7, 2010
I am going to have a hard time with McNabb as a Redskin, but the shock (for lack of a better word) has worn off. It makes me think of ...