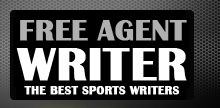 Yankee Addicts
Categories
Featured Sponsors
News published by
January 20, 2011
For a guy who accomplished nothing as a Giant this year, Antrel Rolle has a lot to say. Yesterday Rolle suggested to WQAM's Sid Rosenberg that Tom Coughlin should be like ...
January 14, 2011
Analysts will dissect how the New York Jets are going to beat the New England Patriots in a few days. They will talk about Mark Sanchez needing to play better ...
January 7, 2011
Sports creates diversion from everyday problems. No one needs it more than Mike Bloomberg. The beleaguered New York mayor is going through a tough time right now. He is being criticized for ...
December 4, 2010
When the Jets hired Rex Ryan as their head coach last year, the mission was clear. Beat the Patriots and win a championship. It's a tough task for anyone coaching ...
June 17, 2010
The Jets like to think of Darrelle Revis as a consummate professional. They describe him as a go-getter. Rex Ryan mentions how he never takes plays off when he is out ...
May 7, 2010
Dwight Gooden, Lawrence Taylor, and Darryl Strawberry captivated New York in the 1980s. They led their teams to victories, and they got themselves in trouble with the law. They worked hard to ...
January 8, 2010
The Jets hired Eric Mangini in 2006 after Herm Edwards parted ways with the team due to an acrimonious relationship at the end of a frustrating 2005 season. Everyone loved ...
January 7, 2010
The Giants moved up in the 2004 draft by making a draft-day trade with the Chargers for the rights to get Eli Manning after Manning decided he did not want ...