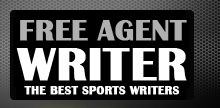 Yankee Addicts
Categories
Featured Sponsors
News published by
February 18, 2011
The Indianapolis Colts have cut veteran safety and former Defensive Player of the Year Bob Sanders. Sanders was scheduled to make $5.5 million this season with bonuses that could have ...
April 21, 2010
Well..this year's schedule looks interesting. This is one of the more difficult schedules that the Patriots have seen, and there is the opportunity for amazing games to be played throughout ...
April 21, 2010
It has been announced that Ben Roethlisberger will be suspended for four to six games for violating the NFL's personal conduct policy with his most recent run in with the law. When Roethlisberger's ...
April 16, 2010
As expected, the Dolphins have parted ways with wide receiver Ted Ginn Jr. After trading for Brandon Marshall earlier in the week, the Dolphins were expected to move Ginn before ...
April 16, 2010
Much of the talk surrounding is whether or not the Patriots are in rebuilding mode. Many people look to their three second round picks as a way to quickly rebuild ...
April 15, 2010
One Runnin' Reb from Old Miss is looking to take his runnin' to the NFL. His name is Dexter McCluster.   When categorizing McCluster many draft websites put him as a WR. ...
April 14, 2010
Here we go, just over a week until Round One of the 2010 NFL Draft, and the Patriots are set to make some noise in in the first two rounds ...
April 13, 2010
One player is slowly moving up teams' draft boards across the NFL, and his name is Akwasi Owusu-Ansah. Being from a Division II school, he hasn't garnered the national attention that ...