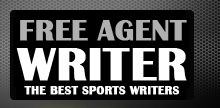 Yankee Addicts
Categories
Featured Sponsors
News published by
May 7, 2010
30. Jake Delhomme 29. David Garrard 28. Josh Freeman 27. Matt Hasselbeck 26. Alex Smith 25. Kyle Orton 24. Vince Young 23. Matt Cassel 22. Matt Leinart 21. Sam Bradford 20. Ben Rothelisberger 19. Mark Sanchez 18. Jason Campbell 17. Matthew Stafford 16. Carson ...
May 4, 2010
Is there anything in this world more annoying than a snotty-nosed, arrogant, rookie? When I think of a spoiled brat, I can't help but think of Coach McDaniels. Let me set ...
May 4, 2010
Now take it from someone who appreciates great quarterback mechanics. I know Tim Tebow had some huge mechanical issues and we all heard about his elongated throwing motion. This lead ...
April 3, 2010
Who are the guys you have to look out for on April 22nd? Who are the players who will make an organzation look like an absolute genius a few years ...
March 20, 2010
Quarterbacks We will start off by introducing the man who will probably end his career as the undisputed best signal-caller of all time—Peyton Manning. Is it even a question? ...