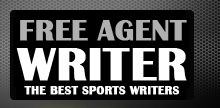 Yankee Addicts
Categories
Featured Sponsors
News published by
January 8, 2011
In a rematch from last year's AFC Championship game, the Indianapolis Colts take on the New York Jets tonight in what is sure to be a very good game. The Colts ...
January 5, 2011
When the Indianapolis Colts play the New York Jets on Saturday, in a rematch of last year's AFC Championship Game, they will get yet another opportunity to shut up the ...
January 1, 2011
The Indianapolis Colts take the field on Sunday with an opportunity to clinch the division and possibly improve their playoff seeding. Tennessee Titans The Tennessee Titans come into Lucas Oil Stadium with ...
December 29, 2010
The NFL announced the 2011 Pro Bowl players today, and the Colts have four players that are headed to Hawaii for their performance this year. The four would be QB ...
December 25, 2010
Friday brought the Colts some good news and it appears extremely likely that Joseph Addai will play Sunday at Oakland. As for the rest of the injured players... Full Participation: ...
December 23, 2010
Today's injury report brings a mixed bag of good and bad news for the Colts. Full Participation: Joseph Addai, Mike Newton, Jamey Richard. Limited Participation: Brody Eldridge, Mike Hart, Clint Session. Did Not ...
June 29, 2010
Consistency, a word commonly used in terms towards the Indianapolis Colts over the past 10 years or so, otherwise known as the "Manning Years". The Colts have won 12 or more ...
June 4, 2010
In baseball, there is a man named Albert Pujols, commonly nicknamed the "Machine" for his consistency and dedication to making his team better. Well, football has Peyton Manning. He is a man who ...