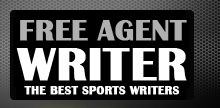 Yankee Addicts
Categories
Featured Sponsors
News published by
March 11, 2011
  Well, the dust has finally settled on the 2011 NFL Combine in Indianapolis, leaving College prospects with just their Pro-Day to impress scouts. With some players overachieving and some ...
February 14, 2011
With the combine less than two weeks away and plenty of mock drafts arising, now is the time for NFL prospects to make their case and enhance their draft stock. ...
August 28, 2010
Well, Favre's Back. Anybody surprised? After, statistically, one of his best years in football, its always been apparent that Favre had unfinished business following the NFC Championship loss to eventual ...
April 10, 2010
Last year, certain Chicago Bears played below standard. We all know Jay Cutler was the focus point of all the abuse and he rightly deserved it. You can't throw 26 ...
April 2, 2010
As we all know, the Bears have used up their 1st rounder on Jay Cutler and their 2nd Rounder on Gaines Adams (R.I.P). This leaves Angelo and Co. in the ...