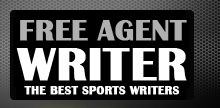 Yankee Addicts
Categories
Featured Sponsors
News published by
January 7, 2011
In a bizarre turn of events in the seemingly never-ending saga of Miami Dolphins' hunt for a new Head Coach, owner Stephen Ross has pulled out of negotiations with top ...
November 12, 2010
Wednesday November 10th was a big day at the Dolphins' complex in South Florida. Change was certainly afoot, as Miami looked to solve some of the issues that contributed to ...
November 12, 2010
The NFL Commissioner, Roger Goodell, made the decision yesterday not to take any action over the alleged spit that Baltimore Ravens fullback, Le'Ron McClain, delivered into the face of Miami ...
November 10, 2010
In the wake of Miami's humbling defeat by the Ravens in Baltimore, there is a great sense of frustration and anger. The frustration was perfectly illustrated by wide receiver Brandon Marshall, ...
November 10, 2010
Miami Dolphins' Offensive Coordinator Dan Henning has pushed me to the limit. I am officially aboard the "Fire Dan Henning" bandwagon. It may have taken me a bit longer to come ...
November 4, 2010
It took just 26 days for Brad Childress and the Minnesota Vikings to cut ties with Randy Moss, following his emotional homecoming in early October. After a tantrum over lunch, ...
September 20, 2010
For the second week running, Mike Nolan's new-look defence was enough to lead Miami Dolphins to victory, as they began the season with back-to-back wins for the first time since ...
September 6, 2010
The Pat White experiment is officially over in Miami. White was never given a chance to cement himself as an NFL quarterback, having failed to show any of the intangibles needed ...
September 3, 2010
Loud? Brash? Arrogant? Irritating? The New York Jets are all of those things; and they are proud of it. The same words can be, and are commonly, applied to the majority ...
April 30, 2010
With the draft now over, and the focus of everybody's thoughts changing to the new season, it is time to have one last look at some serious questions that remain ...