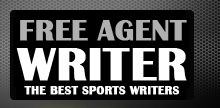 Yankee Addicts
Categories
Featured Sponsors
News published by
March 25, 2011
Most people in the Pittsburgh area, and fans of the Pittsburgh Steelers, know Charlie Batch as a great person and a decent backup quarterback. You usually hear stories of all ...
March 3, 2011
So Pittsburgh Steelers wide receiver Hines Ward is going to be on ABC's "Dancing With the Stars". Ward will become the third active player in NFL history to join the ...
February 23, 2011
In the aftermath of the Pittsburgh Steelers' Super Bowl XLV loss, most fans and critics are calling for some drastic changes. Some changes are already underway as Steelers defensive backs coach ...
February 8, 2011
The Pittsburgh Steelers had a disappointing loss to the Green Bay Packers in Super Bowl XLV. Now everyone is out blaming Ben Roethlisberger, Rashard Mendenhall and Mike Tomlin, and all ...
February 1, 2011
Troy Polamalu has been named AP's NFL Defensive Player of the Year.  In a year where Ben Roethlisberger missed the first four games and the Steelers offense was lethargic at ...
January 29, 2011
I'm beginning to believe that fantasy football is starting to destroy the perception of how players should be judged. Apparently, to be an "elite" QB in the NFL today, all ...
January 27, 2011
Steeler Nation is buzzing right now, and it should be. The Pittsburgh Steelers will be playing in Super Bowl XLV two Sundays from now, marking their ...
January 20, 2011
Just a few days away from the AFC Championship Game between the New York Jets and Pittsburgh Steelers, I find myself calm, relaxed and confident about the Steelers' ...
January 17, 2011
When the Pittsburgh Steelers went into halftime of Saturday's playoff game against the Baltimore Ravens down 21-7, I had little doubt in my mind that they would come ...
January 11, 2011
In the USA Today Baltimore Ravens' head coach John Harbaugh said that he's glad that Ben Roethlisberger got his nose broken.   "I was glad we broke his nose," Harbaugh said (via ...