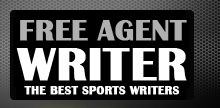 Yankee Addicts
Categories
Featured Sponsors
News published by
November 16, 2010
Have you seen this man? Troy Polamalu is supposed to one of the best defensive players in the league, if not the best. People say that nobody impacts ...
November 15, 2010
With the Steelers down 17-3, Jeff Reed missed a 26-yard field goal. Now, this did not lose the game. I don't blame Jeff Reed for the loss. That ...
November 11, 2010
On paper the Pittsburgh Steelers look as good as any team in the entire NFL. They have pro-bowlers all over the place on defense, a few good skill ...
October 18, 2010
He's back! Big Ben Roethlisberger made his much anticipated return yesterday after serving a four game suspension for violating the NFL code of conduct policy. Roethlisberger received cheers at ...
October 15, 2010
The Pittsburgh Steelers(3-1) host the Cleveland Browns (1-4) this Sunday at Heinz Field. On paper this is a big time mismatch and it should be. Especially considering that ...