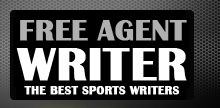 Yankee Addicts
Categories
Featured Sponsors
News published by
March 27, 2013
Though the NFL is the one of the richest in the history of any sport, I get asked all the time what I think about the economics of football.  I ...
February 27, 2013
With NFL free agency starting on March 12, each NFL team must decide how involved they want to become in the spending of top dollars for the best available talent.  ...
February 13, 2013
The next month is one of the most stressful, yet fun, times to be a NFLPA certified contract advisor.  Most agents starting out look forward to the NFL Draft because ...
August 29, 2012
The 2012 NFL season will be remembered as a record-breaking year.With NFL rules favoring the offensive side of the ball, offensive schemes have opened up. New Orleans Saints quarterback Drew ...