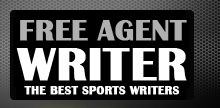 Yankee Addicts
Categories
Featured Sponsors
News published by
April 16, 2011
Day one of the NFL Draft is just a few weeks away, which means that right now the Carolina Panthers are on the clock.It seems like every mock draft on ...
July 20, 2010
The Colts are perennial playoff contenders. Peyton Manning and the boys have won at least 12 games for an NFL record seven straight seasons. But, Peyton Manning can't do it ...
July 13, 2010
The 2010 crop of NFL rookies is expected to be one of the best in decades. In fact this year's top five picks are expected to be solid blue chippers ...
July 4, 2010
Around this time every year, all of the NFL experts are talking about depth charts. Everybody wants to know who'll be the starter for their favorite team (with good reason), and ...
June 18, 2010
After they made the playoffs, Rex Ryan was touting his NY Jets as the favorites to win the Super Bowl (even though he thought they were mathematically eliminated ...
June 1, 2010
The last few years have shown that the Colts are willing to draft the best player available (whether they need him or not). Last year the Colts drafted RB ...