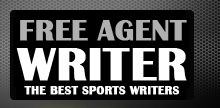 Yankee Addicts
Categories
Featured Sponsors
News published by
June 4, 2010
This is the second article in the series being co-written by Evan Huntley. In this installment, we will dissect the teams of the NFC North, and what standout players might bring ...
April 22, 2010
As the 2010 season begins to inch closer and closer, it is no surprise that we once again will be caught up in the "Brett Favre-capades".  With his offseason antics ...
April 18, 2010
  Throughout the 2008 season, my friend and I would always make the joke that Jerry Jones would look into his silver and blue rows of Texas Stadium, point to a ...