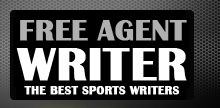 Yankee Addicts
Categories
Featured Sponsors
News published by
November 5, 2010
The Kansas City Chiefs have certainly been one of the surprises of the year in the NFL. Their unexpected 5-2 record leads the struggling AFC West by 1.5 games over, ...
October 22, 2010
We all remember those weeks of August and early September, as our web pages were clogged with mock drafts and we all tried to prepare to get the most possible ...
September 11, 2010
As the NFL season began Thursday night with a rematch of the NFC Championship Game, another year of football kicked off with a...disappointment. As it has been in many of the ...
April 25, 2010
After an exciting second day for the Carolina Panthers in the 2010 NFL Draft, of which many deemed "excellent" while others declared it "very controversial", it was on to the third and ...