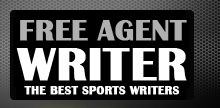 Yankee Addicts
Categories
Featured Sponsors
News published by
May 31, 2010
If you were a young, free agent quarterback and you knew you wouldn't be the clear-shot starter for a franchise, although, you would be a coveted backup, someone to hold ...
May 29, 2010
Michal Vick is trying to pick up the pieces of his career. A starting position is something this quarterback would relish more than anything. There is nothing more important to ...
May 27, 2010
Going into OTA's, the Cleveland Browns are without a proven receiver under contract. I'll admit that some of the offensive weapons are intriguing, especially the idea of the wildcat with ...