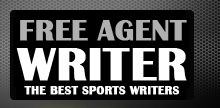 Yankee Addicts
Categories
Featured Sponsors
News published by
May 20, 2011
The men that stand in at linebacker have arguably the toughest job on the football field (on the defensive side, that is).  That is because they must adapt to any ...
April 16, 2011
From the very point Randy Moss landed in Minnesota, the numbers were disappointing. The Patriots rode high and became the unpredictable system that saw them to three Super Bowls and ...
April 8, 2011
The New England Patriots are coming off their best season since going 16-0 in 2007, and are looking for the few puzzle pieces they need to bring home their fourth ...
March 26, 2010
With the NFL draft under a month away, teams are starting to think about what to look for. The AFC East is arguably one of the toughest divisions in the NFL. Don't believe ...