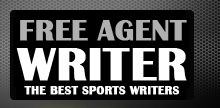 Yankee Addicts
Categories
Featured Sponsors
News published by
April 9, 2011
Well, there may be a team with an even better draft pick who could be in the mix for Kolb's services. According to a tweet from ESPN's Adam Schefter, the ...
April 8, 2011
It hasn't happened in the Andy Reid era and it hasn't happened in Philadelphia since Jerry Robinson in 1979, but it was reported by National Football Post's Aaron ...
January 29, 2011
The Eagles are one of the most successful teams in the NFL, and they have been since Andy Reid arrived.  Coincidence?  Not a chance.  The credit should go to Andy and ...
January 26, 2011
Samuel took to Twitter this morning to criticize the All-Pro voting done by the Associated Press' panel of 50 media members. He was not named to either the first or ...
January 22, 2011
Andrew Walter "Andy" Reid. Football head coach for the Philadelphia Eagles. Former quarterbacks coach for the Green Bay Packers. Offensive lineman for the BYU football team. His life has been ...
January 22, 2011
Once upon a time, back in the Ray Rhodes era, Philadelphia Eagles cornerbacks were much different than today's.  They were bigger, physical, willing to maul you at the line and ...
January 16, 2011
Less than a week after Philadelphia Eagles head coach Andy Reid said that defensive coordinator Sean McDermott would return in 2011, the Eagles have fired McDermott. We all know when Andy Reid says ...
January 11, 2011
Are you serious? Hey Colin, ask the Miami Dolphins which QB they would rather have under center. Earlier today: ESPN's Colin Cowherd on his daily morning talk show once again continues his hating ...
January 6, 2011
Over the course of an NFL season, several things become evident, even to the most casual of observers.  Being that I am a fervent Eagles fan, many ...