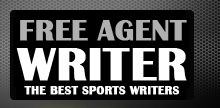 Yankee Addicts
Categories
Featured Sponsors
News published by
September 9, 2010
As most fantasy league drafts are done and dusted awaiting the start of the season, many leagues allow for waiver or free agent pickups up until the coin toss of the ...
June 12, 2010
The 49ers' head coach, Mike Singletary, has a plan. Inheriting a team with some talent but no direction, Singletary has re-established pride in the organization. He has provided vision and ...
June 12, 2010
The New York Jets will make it to the Super Bowl this year because of two words: Buddy Ball. I'm not speaking about just New York Jets coach, Rex Ryan; I'm ...
May 21, 2010
"Shut down" corners are few and far between. With many great cornerbacks over the years, the term has only been used on about half a dozen of them. Players like ...
May 18, 2010
Donovan McNabb is one of the most talked about quarterbacks in the league who doesn't have moral issues or is not named Brett Favre. Though not immune to criticism, ...