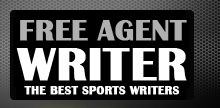 Yankee Addicts
Categories
Featured Sponsors
News published by
August 2, 2010
There was a time, back in the Gibbs Glory Days , when the Washington Redskins were thought of as a big team. The relative size of the offensive line Gibbs ...
July 29, 2010
You can't swing a fluffy unicorn these days without hitting a training camp preview, so rather than subject you to yet another round of position breakdowns and statistics, over the next few days ...
July 14, 2010
T minus 14 days. Training camp is only two weeks away and the Redskins have yet to answer some pivotal questions: Can Donovan McNabb still move? Who will start at free ...
July 3, 2010
PFT is doing what it does best this morning—circulating rumors and framing non-stories as stories. The latest... BRETT FAVRE HAS BEEN WORKING OUT WITH JASON CAMPBELL ...
June 24, 2010
Once in a while, Life offers a confluence of circumstances that we slowly become aware of, just at the periphery of thought, but never crystallize into words. On ...
June 17, 2010
If you haven't already, make sure you check out Dan Steinberg's latest Sports Bog entry on Bruce Allen and The Washington Redskins. Why? Because what we have here, ladies ...
April 27, 2010
While working on the requisite post-draft analysis piece (probably posting tomorrow), I stumbled upon yesterday's PFT blurb about some comments from Redskins CB DeAngelo Hall. If you haven't read them yet... DeAngelo ...
April 22, 2010
Only one thing on the minds of true football fans today...tonight's prime time first round NFL Draft Extravaganzalooza.I will admit to being a bit of a traditionalist—I have always loved the Saturday at high ...