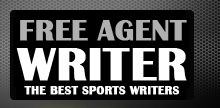 Yankee Addicts
Categories
Featured Sponsors
News published by
April 27, 2010
Round One: Bryan Bulaga, OT, Iowa Bulaga's stock was all over the board, but Ted Thompson stuck to his draft board and went with who he hopes will be the team's ...
March 30, 2010
Anyone affiliated with the Green Bay Packers knows to expect the unexpected when it comes to Ted Thompson and the NFL Draft. With picks like Aaron Rodgers and Justin Harrell, necessity ...
March 1, 2010
Green Bay Packers' head coach Mike McCarthy announced Sunday that budding star Jermichael Finley would be the team's starting tight end entering the 2010 season. It should come as no surprise ...
February 23, 2010
Heading into the 2010 NFL Draft, one position the Packers will look to improve is cornerback.  The Packers' defense stepped up as a whole in 2010.  But the pass defense struggled at ...
January 6, 2010
When the Green Bay Packers defeated the Arizona Cardinals 33-7 last Sunday, most spectators knew the score was more indicative of Packers head coach Mike McCarthy having a different philosophy ...