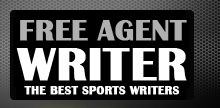 Yankee Addicts
Categories
Featured Sponsors
News published by
April 21, 2013
Each and every year, players are moved down draft boards for their size, speed and/or character concerns. But several years down the road, a draft class is put under the ...
April 13, 2013
Taking the JUCO route to Division 1 college football isn't the conventional way to do it, but Nebraska safety Daimion Stafford made it work. And now, Stafford has his sights ...
April 3, 2013
Under head coach Nick Saban, the Alabama football program has been a factory for NFL talent.This year's class is no exception, and safety Robert Lester looks like a Day 3 ...
February 23, 2013
Running back is perhaps the toughest position to evaluate in the time leading up to the NFL draft.For every can't-miss prospect like Trent Richardson, there's a sixth-round stud like Alfred ...
February 16, 2013
The 2013 NFL Draft is deep at the safety position, but most scouts believe that this year's crop does not include any elite players at the position.Last year, Alabama's Mark ...
January 27, 2013
There are four major professional sports in the United States. And there are four very different All-Star games.With the Pro Bowl scheduled to kick off this afternoon, we take a ...
October 14, 2012
Five weeks into the NFL season, Texans defensive end J.J. Watt has already racked up 7.5 sacks.For a defensive end in a 3-4 alignment, 7.5 sacks would be a great ...
May 12, 2012
2011 record: 3-13The Minnesota Vikings will go as far as their two superstars take them; Adrian Peterson literally carries the offense, and Jared Allen spends as much time in opposing ...