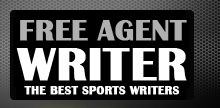 Yankee Addicts
Categories
Featured Sponsors
News published by
November 12, 2010
The NY Daily News is reporting that Jenn Sterger, her attorney and her manager, all met with League officials today for nearly three hours.  The only hint at details of the ...
October 31, 2010
Various new outlets, including Fanhouse, are reporting that Versus network, has cancelled their The Daily Line show due to what the network referred to as "anemic ratings."   The show features Jenn ...
October 28, 2010
Well, you really can't make this stuff up, can you?  Apparently, a fellow Florida State Cowgirl, Allison Torres, has come forward claiming that, among other things, she was with Jenn ...
October 17, 2010
Part II:  The Allegations Most of you already know the general details, so I won't rehash the story that has been exclusively, and interestingly enough, only Deadspin.com's.  The breaking story is ...
October 16, 2010
Part I—Who is Jenn Sterger? Before Sept. 5, 2005, Jennifer Sterger was just another co-ed at Florida State University.  Thanks to Brent Musburger, whose incessant need to fill every moment of ...