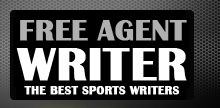 Yankee Addicts
Categories
Featured Sponsors
News published by
May 1, 2016
Now that the final selection has been made in the 2016 NFL draft, the Chicago Bears can start focusing on the upcoming season. Chicago addressed needs on both sides of the ...
April 30, 2016
The Chicago Bears were very active on Friday night. The team was set to select 41st overall, but the Bears traded back to the 49th overall pick with the Buffalo ...
April 29, 2016
The Chicago Bears needed to find an impact player on the defensive side of the football in the first round, and they moved up two spots to select Georgia's Leonard ...
April 18, 2016
Following a 6-10 season and a last-place finish in the NFC North in 2015, Chicago Bears general manager Ryan Pace made it a point to add both playmakers and depth ...
December 25, 2015
An NFL offense is only as good as its offensive line, and after a solid start to the season, the Chicago Bears offensive line has become the team's weakest link ...
December 18, 2015
When the Chicago Bears selected seventh overall in the 2015 NFL draft, the team opted to add a young receiver in Kevin White over a pass-rushing outside linebacker like Clemson's ...
December 4, 2015
After finishing the 2014 season ranked 30th in total defense after allowing 377.1 yards per game, the Chicago Bears sit 19th in total defense in 2015—allowing 343.1 yards per game under ...
November 28, 2015
On a night in which the Green Bay Packers retired Brett Favre's iconic No. 4 at Lambeau Field on Thanksgiving, the Chicago Bears came away with a surprising 17-13 victory ...
November 6, 2015
Following an injury to veteran running back Matt Forte in Week 8 against the Minnesota Vikings, rookie running back Jeremy Langford is set to give the Chicago Bears a glimpse ...
October 30, 2015
Minnesota Vikings running back Adrian Peterson has looked like his old self this season, and that is not good news for the Chicago Bears heading into Week 8. Peterson is currently ...