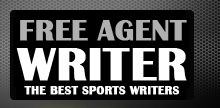 Yankee Addicts
Categories
Featured Sponsors
News published by
December 28, 2010
The NFL Playoffs are less than two weeks ago. I'm sure that all pro football fans are excited about some of the potential divisional round matchups: Green Bay Packers at Chicago ...
December 23, 2010
You have probably heard the news by now—such as it's news—about the alleged foot fetish videos that may well have featured Michelle Ryan, wife of the New York Jets' colorful ...
December 18, 2010
Things happen quickly in today's world—sports and otherwise. To illustrate my point, I have given myself no more than 30 minutes to hammer out some of my thoughts on the strange ...
December 7, 2010
After the New England Patriots' 45-3 thrashing of the upstart New York Jets, only four games remain in the NFL regular season.So, at this point in the season, who are ...
November 29, 2010
The 2010 NFL Season has been a campaign featuring a lot of parity around the league.  Consider that none of the NFL's eight division leaders have more than a one-game ...
November 22, 2010
The Philadelphia Eagles defeated the visiting NY Giants 27-17 to claim first place in the NFC East last night. The divisional showdown offered up enough twists and turns to satisfy even ...
November 15, 2010
As if tonight's Monday Night Football clash needed another subplot to make it compelling, ESPN's Michael Smith has reported that the Redskins and quarterback Donovan McNabb have agreed on a ...
November 10, 2010
The NFC East, and indeed the whole NFC, is wide open this year. In fact, the whole NFL appears to be. With that as one of the backdrops, the 5-3 Philadelphia ...
November 6, 2010
SPORTS IRREVERENCE AND MORE FROM "THE OTHER TIP OF THE GOLDBERG" The Philadelphia Eagles (4-3) host the Indianapolis Colts (5-2) in an intriguing interconference showdown, prompting several questions for NFL fans. Can ...
November 1, 2010
Confession 1:  I'm a lifelong Philadelphia Eagles Fan. Yes, I not only remember all the way back to the Vermeil years, but also the five or so drought years before ...