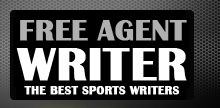 Yankee Addicts
Categories
Featured Sponsors
News published by
January 8, 2014
Ask any football expert and each one will tell you the same thing: The Houston Texans are loaded with talent. Even if one excludes Arian Foster, Owen Daniels and Brian Cushing—who ...
November 20, 2013
When the offseason mercifully rolls around for the Houston Texans, a prime goal for the much-maligned franchise would seem to be to re-sign Ben Tate, who will be a free ...
July 21, 2013
Gear up, training camp is almost here, and the NFL season is almost upon us. Ah, it's beautiful really. Soon, our lives will be consumed with football. Awesome. Anyway, the Houston ...
July 21, 2013
Training camp is all about the unknown. It's all about the late-rounders, the undrafted and the ones who don't have a chance. It's all about Arian Foster stepping up and showing ...
July 21, 2013
How, you ask, can a team like the Houston Texans—who essentially have a complete roster—possibly have so many roster battles? Well, five isn't that much, but you get the point. The Texans' ...
July 21, 2013
It's never too early to start guessing what the Houston Texans' final roster will like once the regular season finally starts. Since the Texans are already contenders, most of what the ...
May 1, 2013
The NFL draft is over. Now, the terrible, anxious waiting game begins. It will be months before the Houston Texans' new rookies will be seen in game action.So, to fulfill ...
March 6, 2013
The Houston Texans are as close to winning a Super Bowl as they have been in their entire existence, making this one of the most important free agency periods in ...
October 17, 2012
As the NFL moves closer and closer to the trade deadline, many NFL general managers must begin to ponder how they can improve their football teams.The 5-1 Houston Texans are ...
September 12, 2012
The Houston Texans proved many things on Sunday when they matched up against the Miami Dolphins.They proved that their defense was just as dominant as it was last season.They proved ...