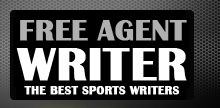 Yankee Addicts
Categories
Featured Sponsors
News published by
May 1, 2010
Caleb Campbell is a name most Detroit fans recognize, but if for whatever reason it doesn't ring a bell then here's a recap of his story. In April of 2008, Campbell, was featured ...
April 19, 2010
From one position to the next, Detroit seems to be a little too focused on the wrong ones. First it was drafting seven receivers in the last six drafts, and ...
April 5, 2010
Rob Sims is now officially a member of the Detroit Lions, or will be as soon as he passes his physical. The deal was announced earlier today and confirmed by ...
March 5, 2010
Detroit Lions making some big free agency news? This is not something that happens very often. Usually the Lions stay pretty quiet in free agency and just add some second tier ...