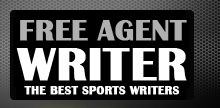 Yankee Addicts
Categories
Featured Sponsors
News published by
January 13, 2017
Two weeks ago, Wyoming quarterback Josh Allen headlined a new mock draft with his name attached to the Chicago Bears at No. 3 overall. That move made some ripples through ...
January 11, 2017
The 2017 NFL draft class looks loaded. If your favorite NFL team has a need at edge-rusher, cornerback, running back, tight end or safety—you're in luck this season. No group ...
January 6, 2017
Here come the underclassmen. The past week brought a whirlwind of redshirt sophomores and juniors declaring for the draft. Notable players like top-ranked Myles Garrett and Leonard Fournette all announced their ...
January 2, 2017
How do the Cleveland Browns, San Francisco 49ers, Jacksonville Jaguars and Chicago Bears move on from an awful 2016 season and start rebuilding? By having a successful 2017 draft.   Great ...
December 30, 2016
All season we've been looking for that sleeper quarterback, this year's version of Carson Wentz or Dak Prescott. I've found one. It isn't Brad Kaaya—who dominated West Virginia in what might ...
December 23, 2016
How does the NFL react to a second incident of domestic violence that brings back memories of Ray Rice's elevator knockout? That's the biggest topic around the league as scouts, ...
December 21, 2016
NFL owners are doing the same things over and over again and expecting different results. Recycled coaches and general managers. Making the same mistakes in free agency and the draft. The ...
December 16, 2016
NEW YORK, N.Y. — Another week on the road from work, writing to you somewhere over Missouri and Illinois and then finishing up at Bleacher Report's home office in New ...
December 14, 2016
The room is dark and quiet when you walk in with a binder full of scouting reports, a pen, a spit cup and a coffee. It's just you, a projector ...
December 9, 2016
KANSAS CITY, Mo. — I'm typing this to you while I can still feel my fingers before the Kansas City Chiefs host the Oakland Raiders in what is expected to ...