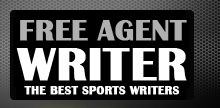 Yankee Addicts
Categories
Featured Sponsors
News published by
July 27, 2013
The NFL has emerged as the elite sport in America due in large part to its famous history that has carried over to present time. Each franchise, whether new or ...
July 9, 2013
The Detroit Lions and quarterback Matthew Stafford struck a major extension Tuesday. ESPN NFL insider Adam Schefter reports the 25-year-old quarterback has received a three year, $53 million extension with ...
June 15, 2013
As NFL coaches continue to face pressure from their respective franchises, the creative minds of offensive coordinators are making a difference in today's league. Offense continues to be predicated on ...
June 8, 2013
The National Football League has emerged as a billion-dollar organization both through the success of the sport and the entertainment value it brings. It's impressive how the league has persevered ...
May 25, 2013
Like most competitive professional sports, the NFL continues to deal with negative press regarding the consistently poor performances from its referees. In a sport where its focus is to enhance ...
April 6, 2013
While the 2013 NFL Draft has not drawn rave reviews due to its overall quality, the expectation is that there is still plenty of talent in this year's class, despite ...
February 16, 2013
The Indianapolis Colts announced yesterday that they will part ways with former All-Pro defensive end Dwight Freeney after 11 seasons with the organization. At age 32, Freeney is expected to ...
August 29, 2012
The National Football League has proven to be more than just a sport, but also a billion dollar industry that continues to grow during each football season.There are many football ...
June 2, 2012
As the 2012 NFL regular season approaches, there appears to be plenty of hype surrounding former Heisman-winner Cam Newton and the Carolina Panthers.Despite being on a 10-loss team in 2011, ...
March 11, 2012
Peyton Manning is reportedly determined to choose his new team next week, and has always visited both the Denver Broncos and the Arizona Cardinals.He is also expected to visit the ...