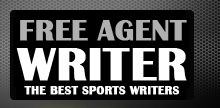 Yankee Addicts
Categories
Featured Sponsors
News published by
January 1, 2011
It's the last week of the NFL regular season, and most of the playoff picture is in place. It can be difficult to determine what teams will fold up camp ...
December 23, 2010
Week 16 in the NFL is a very boring slate of games. With the exception of a few games that feature some teams fighting for a playoff spot, it's a ...
December 5, 2010
Sunday Night Football will feature a rough and tough divisional game between the Pittsburgh Steelers and the Baltimore Ravens.  The latest NFL odds posted for this game by BetMania have ...
December 4, 2010
The New England Patriots welcome the New York Jets to Foxboro this week for Monday Night Football. The latest NFL sports betting odds posted by BetMania have the Patriots listed ...
December 4, 2010
The Kansas City Chiefs remember the last meeting against the Denver Broncos and they are out to make sure it doesn't happen again this time around. The latest NFL Odds ...
December 4, 2010
When the New Orleans Saints take the field against the Cincinnati Bengals it seems like the game would not have as much draw, since the Bengals are having a sub-par ...
December 3, 2010
As the season wind down it's difficult to watch certain teams try to cling on to the hopes of a playoff spot regardless of their spotty record. After my performance ...
November 28, 2010
The Monday Night Football game for Week 12 is an interesting match up between two struggling teams. The Arizona Cardinals play host to the Sam Francisco 49ers in a battle ...
November 25, 2010
The Thanksgiving edition of the all of the NFL picks against the spread is here. There is nothing better than watching a football game that you have a few bucks ...
November 20, 2010
The San Diego Chargers host the Denver Broncos on ESPN for Monday Night Football and look to make a late season push for the division title. BetMania has posted the ...