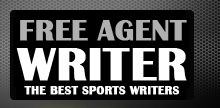 Yankee Addicts
Categories
Featured Sponsors
News published by
July 13, 2010
After finishing a franchise-best 9-7 last year, the pressure is on the Texans and coach Gary Kubiak to earn their first ever playoff berth this season. At the end of ...
June 29, 2010
Though the Texans barely missed out on a playoff berth in 2009, quarterback Matt Schaub had a breakout season with a league-high 4,770 yards, 29 touchdowns and 15 completions of ...
May 5, 2010
Texans coach Gary Kubiak will begin the process of evaluating nine new rookies when offseason team workouts start on May 17. First round pick Kareem Jackson and second round pick ...
February 27, 2010
As the Seahawks struggled with their zone-running offense during the 2009 season, fans searched feverishly for a solution in the upcoming draft. With electrifying speed and triple-threat capabilities as a ...