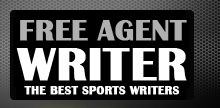 Yankee Addicts
Categories
Featured Sponsors
News published by
February 16, 2011
A move that was expected to happen was finally handed down as the Indianapolis Colts made it official today.  They will use their franchise tag on All-Pro quarterback Peyton Manning, ...
February 15, 2011
How do you make one of the best teams in the entire NFL even better after a 14-2 regular season? That is the question that New England Patriots coach Bill ...
February 8, 2011
Charles Woodson was finally able to get his first Super Bowl ring as the Green Bay Packers defeated the Pittsburgh Steelers 31-25 Sunday. He got it even though he had ...
February 8, 2011
Mark Sanchez is a player who always has a ton of debate and argument centered around him.  Some people love him (mostly New York Jets fans), while others despise him ...
January 29, 2011
It has been a little over three weeks since Tennessee Titans owner Bud Adams announced that his quarterback Vince Young would not be returning to the team for next season.  Instead ...
January 19, 2011
As we all know by now, the Pittsburgh Steelers will be taking on the New York Jets Sunday evening at Heinz Field to decide the winner of the AFC Championship and ...