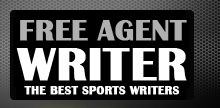 Yankee Addicts
Categories
Featured Sponsors
News published by
July 5, 2013
When it comes to fantasy football, running back is practically the most sacred position for any roster. These guys tend to make or break your team.The 2012 season was all ...
June 18, 2013
Attention men everywhere: The Miami Dolphins cheerleaders are back and better than ever. In the summer of 2012, the Miami Dolphins cheerleaders released a stunning video, lip-syncing Carly Rae Jepsen's "Call ...
November 10, 2012
Jake Locker of the Tennessee Titans has been out of commission with a shoulder injury since the first quarter of a Week 4 game against the Houston Texans. According to ...
November 10, 2012
Antonio Brown left Sunday's Pittsburgh Steelers game against the New York Giants with what appeared to be a high ankle sprain. Following the game, Brown claimed that the injury ...
November 3, 2012
For a team that is second in the league with 166.3 rushing yards per game, it is surprising that you never hear Chris Foerster's name called. Most people don't even ...