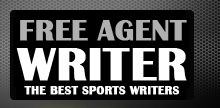 Yankee Addicts
Categories
Featured Sponsors
News published by
July 8, 2014
As the NFL becomes more about speed and athleticism, Eddie Lacy constantly brings us back to old-school football. As he enters his second season for the Green Bay Packers, the ...
June 24, 2014
The offseason for the Green Bay Packers is in full swing with OTAs finished and training camp rapidly approaching. So naturally, there isn't a better time than now to address ...
May 20, 2014
With the offseason set to begin soon for the Green Bay Packers, it's time to get ready for some heated roster battles. Some of the following battles involve rookies attempting to ...
March 15, 2014
The Green Bay Packers and quarterback Aaron Rodgers will no longer have to live in fear of defensive end Julius Peppers on game days for the 2014 season. That's because ...
June 15, 2013
With the close of  NFL OTAs, we continue to inch closer and closer to the start of the NFL regular season. These OTAs are voluntary workouts, and they've become a rather ...
April 17, 2013
Rod Sweeting isn't the most well-known prospect in the 2013 NFL draft. The former cornerback for the Georgia Tech Yellow Jackets is coming off his most productive college season this ...
March 23, 2013
In free agency, NFL teams are generally trying to improve their rosters. Unfortunately, they sometimes offer outrageous contracts to make that happen.Sometimes that can be a good thing. For example, ...
June 30, 2012
The NFL is a business, and just like any business it is sometimes important to let people go in order to move the company forward. The San Francisco 49ers did ...
May 20, 2011
At first glance this might seem like a rather crazy thought.  But upon closer evaluation, it appears to be extremely possible.  The 2011 Green Bay Packers have a chance to ...
April 30, 2011
Do you remember when you were younger and the kids in your neighborhood got together to play a game of football? There were two captains, and whoever picked the right number ...