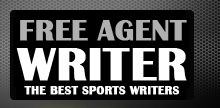 Yankee Addicts
Categories
Featured Sponsors
News published by
March 18, 2011
With at least one of the Williams brothers surely headed out of town this offseason, the Vikings need to shore up their defensive line in order to remain sturdy against ...
March 17, 2011
The Bills seemed to have had Fairley snatched from their grasp when Andrew Luck decided to stay in school, and had probably already moved on to pursue other targets. If ...
March 17, 2011
The Denver Broncos sacked the opposing quarterback just 23 times in 2010, the fewest of any team in football. Elvis Dumervil will be back next season and that will help ...
March 12, 2011
If the past few seasons have taught us anything about first-round picks in the NFL Draft, it is that character is more important than ever as a factor in determining ...
March 9, 2011
The Texans used to draft primarily on the basis of perceived team need, but that hardly ever works and so the team began drafting the best player on its board ...
January 18, 2011
With only four teams left in the 2011 NFL playoffs, the other 28 franchises in the league now turn their attention to the offseason. As always, uncertainty abounds, and there ...
January 8, 2011
The wait is over: Drew Brees and the New Orleans Saints are ready to take on Pete Carroll and the Seattle Seahawks in the first game of the 2011 NFL ...
January 7, 2011
This offseason, every NFL team in need of a quarterback will ardently pursue Philadelphia's Michael Vick. Set to become a free agent this spring, Vick is coming off the best ...
January 6, 2011
The NFL playoffs will kick off Saturday with a pair of Wild Card games, including a showdown between the Philadelphia Eagles and Green Bay Packers that will capture a lot ...
January 4, 2011
Bowl season is winding down, and although plenty of key draft prospects have yet to play their final collegiate games, attention is quickly turning toward the NFL Draft. Will Andrew ...