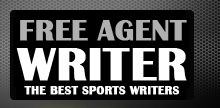 Yankee Addicts
Categories
Featured Sponsors
News published by
February 4, 2011
Well we're three days away from the end of the 2010 football season, and as a football fan, you couldn't ask for a better matchup.  At this point, every possible ...
October 14, 2010
Week 5 of the NFL Season is in the books, and parity continues to rule supreme. The Jets are looking like the team they said they'd be, the Packers' injury ...
August 19, 2010
Let's get this out of the way: I'm addicted to the NFL Draft. More so than the actual NFL season. Why haven't I written in awhile? The draft is over. ...
May 21, 2010
The Green Bay Packers announced today that 2009 top draft pick BJ Raji will be the starter at NT for the 2010 season. This moves comes at a bit of a ...
April 15, 2010
Let me start off by saying that the Packers have a definite problem in the secondary. It was the biggest reason for their last two losses of the season. It needs ...
March 13, 2010
After inking Chad Clifton to an extension to a three-year extension, the Packers proved they weren't done. Despite having Pro Bowl safety Nick Collins and starting nose tackle Ryan Pickett ...
March 12, 2010
Welcome to second edition of the two-part series featuring the All-Decade team for the next ten years. Defense wins championships, so who will the best players on that side of ...
February 22, 2010
By now, Packer fans who frequently visit this site will have read Jersey Al Bracco's pieces on trading up or down in the NFL Draft on Apr. 22. (If you ...