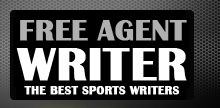 Yankee Addicts
Categories
Featured Sponsors
News published by
November 28, 2012
I'm not saying it will be done. But after putting on my blue-and-gold-tinted glasses, I believe that it can be done. Jeff Fisher doesn't want to talk about the playoffs. ...
October 17, 2012
This time last month, I proffered the insane idea that the NFC West—long the doormat of NFL divisions—was the best in professional football. I used some basic statistical benchmarks, mixed in ...
August 26, 2012
On the heels of the St. Louis Rams' impressive preseason performance last week against the Kansas City Chiefs, the Rams went into Saturday night's exhibition at Cowboys Stadium with high expectations.I ...
July 29, 2012
What's the deal with the recent hubbub surrounding the newest Miami Dolphin, Ryan Tannehill? I don't understand the love affair some have with the former Texas A&M quarterback.Is it just because ...