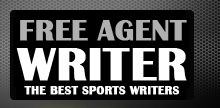 Yankee Addicts
Categories
Featured Sponsors
News published by
July 30, 2011
It's not over. The offseason spree. The revitalization. The bellows of Super Bowl bluster.There's still a chance, still moves to be made. Dallas can recover.Listen. Losing Nnamdi Asomugha stung. And that ...
July 23, 2011
A web site that had independently contacted NFL players as recently as Friday with hopes to serve as the medium for the NFLPA's recertification has abandoned that agenda, after discouragement ...
July 16, 2011
Pretty sure you don't need a fancy-pants business degree to grasp the most fundamental of trading principles.Buy low. Sell high. Milk profits and feed the people.In other words: as soon ...
July 16, 2011
Brandon Graham underwent microfracture surgery on the same right knee that suffered a torn ACL and ended his 2010 season, multiple sources confirmed to PhillySportsDaily.com's Tim McManus.Sources corroborated a July ...
July 9, 2011
Begrudging lockout update: Looks like this might take a while, with an evening report that a deal isn't likely before next week, and this morning's 8th Circuit Court's ruling on ...